CONSTANZA MALLOL HAPPENINGS
Constanza Mallol: RiverArts Studio Tour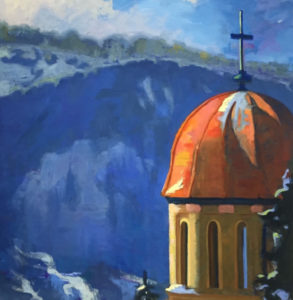 Constanza has lived in Chile, México and the United States. The folklore, nature, culture and weather of each of these countries that were her beloved homes, have cause a great impact on the artist sensibilities toward her Art. Her painting is direct, immediate and speak directly to emotion, with no intellectual or rational interference. Trained formally in the academic tradition, this aspect of her technique seems subservient to her quest for exhilarating pure color as manifestation of life. She acknowledges light as the path to meaningful and true color in nature. Using bold yet apparently simple compositions, her pieces are rich and exuberant. They create an atmosphere of their own and a balanced harmony that even with intense color, seem peaceful.Constanza's subjects for painting include: still life, portrait, figure, landscape, plain air, florals etc. She works primarily in oil on canvas but also uses watercolor and pastels. She lives with her family in Hastings on Hudson and works at her studio by the Hudson River. Read More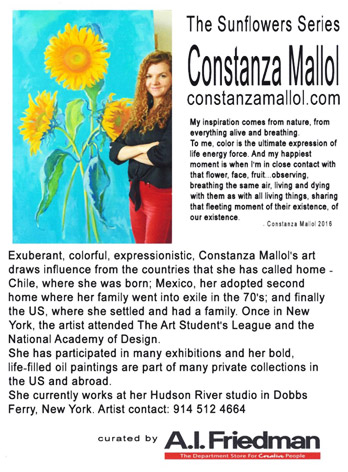 The Sunflowers Series by Constanza Mallol: through June 30, 2016
Currently showing at the US Alliance Federal Credit Union location in Port Chester (across the parking lot from our Port Chester A.I. Friedman location) is The Sunflowers Series by Constanza Mallol.
Constanza's work is exuberant, colorful and expressionistic. She draws influence from the countries she has called home, Chile where she was born, Mexico her adopted second home, and the US where she lives and works now. She currently works at her Hudson River studio in Dobbs Ferry, New York. According to Constanza, "My inspiration comes from nature, from everything alive and breathing."
Click here for more information.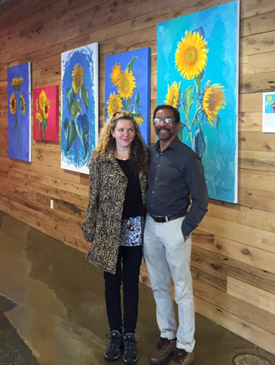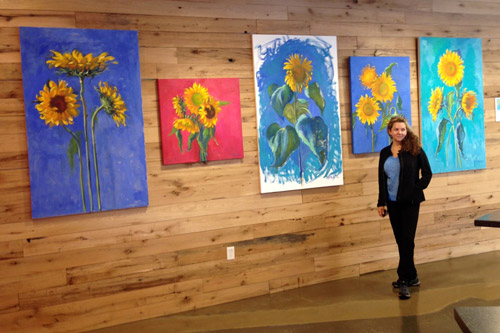 Constanza's Show: October 6 - November 7, 2014
I'm having an exhibition of paintings at The Hastings Station Cafe in Hastings-on-Hudson, New York. The show runs from October 6th to November 7th.
Below are photos taken at my studio of some of the pieces now exhibited. There are a total of 15 paintings of which half are new and being shown for the first time; large scale explorations of sun flowers and nude figure paintings, among others. The Rivertowns Enterprise published an article about the exhibition on October 3rd - click here to read.
Join me at the Opening Reception on October 18th from 10 to 1pm.
The Station Cafe is the former Hastings Train Station that borders the beautiful Hudson River. We are 30 minutes from Grand Central on the Hudson line by train and 20 minutes from Manhattan by car.