ABOUT CONSTANZA MALLOL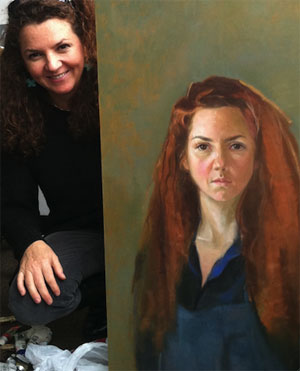 The colleagues, collectors and students who experience Constanza Mallol's colorful, descriptive still-lifes and figures are struck by their revealing use of light and form. The organic realism invokes the simplicity of the subject, yet the interpretation is informed by an artist with a unique life experience at the center of the cultural and political upheaval that shaped Latin America in the tumultuous decades of the late 20th Century.
"I like to paint what is alive, to understand each object and honor its value and substance. I don't look to evoke hidden meanings or sentiments." Yet Mallol's own history is filled with cultural subtext, shaped by the political crises of her native Chile -- the rise of socialism, followed by military dictatorship -- which forced her politically-active father and artist mother to flee after the Pinochet coup of 1973.
Finding asylum in Mexico, the young artist was immersed in the cultural and political life of a new land and people. Here her individualistic sense of color and form was influenced by the vibrant history, art and exuberance of this ancient, ever-changing nation.
In 1993, Constanza journeyed to New York to study at the Art Students League and the National Academy of Design. Throughout her productive career in America, she has participated in museum and gallery shows and developed a loyal group of collectors and students.
Career highlights include shows at SOHO 20, Warde-Nasse Gallery, Wisteria Gallery, La Mama La Galleria and Art Students League in New York City. Her work is on permanent display at the Museo de Arte Moderno in Chile, at the Center for Latin American and Caribbean Studies at SUNY Stony Brook, and in private collections in the U.S. and abroad. Constanza leads a growing group of students at her Hudson River studio, where she creates new works and inspires young artists.
"Contemplating, painting and understanding the beauty of an apple brings order to the chaos of my universe"